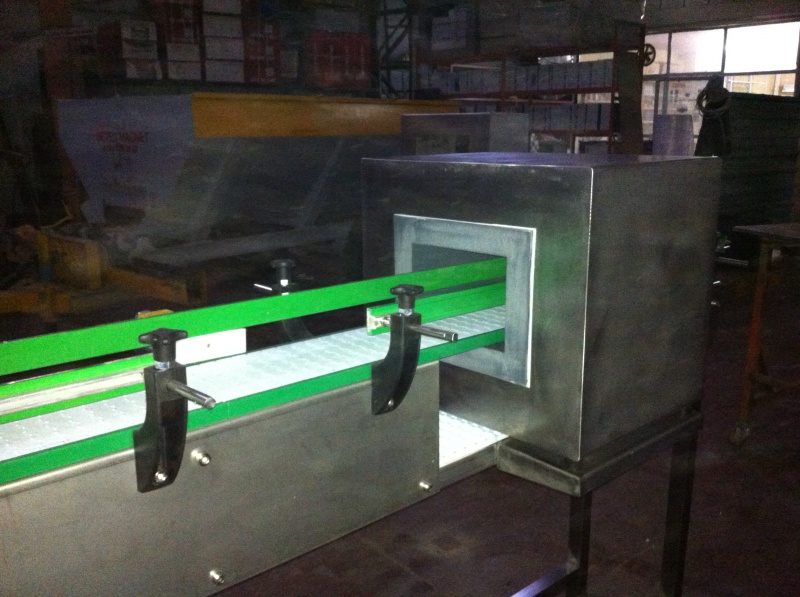 tunnel-type metal detectors
the
the
tunnel-type metal detectors, closed circuit system and the detection sensitivity in the centre of the inner tunnel
the
has a very high detection sensitivity detection sensitivity is homogeneous and the metal can reach up to 0,5 mm.
the
physical environment the effect of the product magnetic interference, vibration sensitivity for a disadvantage in terms of adverse effects such as tunnel metal detectors.
the
Metal Detector antistatic tape is to be applied must not be featured in flicker and dirty.
the
tunnel-type magnetic Metal Detector should be smooth away from the pollution and hygienic working conditions,
the
tunnel-type metal detector in wet salt Product Product dry product, etc. Details must be specified in advance.
the
tunnel-type metal detectors metal detection sensitivity is inversely proportional to the internal dimensions of the tunnel.
the
the internal dimensions of the tunnel increases, the metal detection sensitivity is reduced.
the
the internal dimensions of the tunnel decreases, increases the sensitivity of metal detection.
the
digital control panel and are made of the adjustment process by giving a numerical value.
the
reset the connection to counting faulty product parameter product red system is available.
the
it is suitable for food metal detector and stainless material structure conditions.
the
Metal Detector test card included with the device.
the
detects all kinds of metals(IRON,CHROME,STAINLESS-etc).
SECTORS
food and Cleaning products, packaging and packaging Clearinghouse, the pharmaceutical industry ,raw material industry Micronized
specifications
the
the
Supply Voltage: 220 V AC ± 10%
the
Max Power: 15 W
the
Dashboard: IP 65
the
Sensor: IP 65 dkp sheet
the
Sensor cable: LIYCY
the
supply cable 2 x 1.5 mm
the
Control relay: 10 amp Changeover.
the
Warning relay: Changeover 6 amp.
the
fault relay: Changeover 6 amp.
the
LCD Digital display
the
sensitivity and other settings, giving you the opportunity to do the numeric value ( 0 – 250 )
the
noise setting ( to zero, for the reduction of environmental effects of radio – cable, etc )
the
manual reset
the
auto reset ( 0 – 60 sec )
the
delay setting ( 0 – 60 sec )
the
product effect adjustment ( 0 – 60 sec )
the
Metal signal the possibility of counting and resetting on the LCD screen
the
in the evening, electronic and mechanical -20 C to + 55 C can operate in the range.