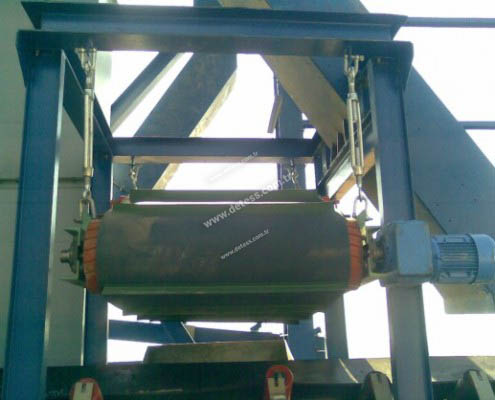 on the tape are made to carry metal particles mixed into the material in places where transported material drawn by the magnet that makes the process of being kicked out of the band and specially designed rotating machine.
User Fields
the
the
mining sector
the
stone quarry and crushing
the
recycling facilities
the
cement and ready-mixed concrete
magnet type :
the
the
permanent magnet generators
the
Elektromiknatisli separators
the
Custom designed (DETESS) custom engineered permanent magnet
metal separators
the
the
automatic cleaning unit band separators
the
consists of two main parts
the
Magnet (magnet) tape and automatic cleaning.
the
rotating magnet captured by a band with metal barrier is thrown.
the
high powerful ferrite magnets or neodymium magnet blocks are designed with features from the custom properties.
the
we have transported the production of the electromagnet and the electromagnet is greater than the height of 35 cm from the tape, we recommend the material, electromagnet and the metal come into play and are not consistently enforced when it comes to in this way, continuous saves energy.
conveyor belt system for dragline and transported by vibration or ferro-magnetic properties non-Ferro metals used in the removal of all kinds of materials mixed into.
sand, aggregate, cement, recycling systems, coal, etc. the facilities are used.
The metals has magnetic properties that can pull in the material,that can always stay the same continuous magnetic field. Self-cleaning tape-a special barrier that will give you years of service and production. Optionally, the sensor is activated by the cleaning tape and the system further reduces operating costs reduced by remaining constantly in the circuit.
specifications
the
the
4 kW electric motor
the
drive system ...............
the
self-cleaning tape 10 mm-8 mm crawler or concise polyester
the
neodymium or ceramic Magnet material grade C5 Y3O5 h unit.
the
balansli drive drums. Flansli Miller, and is subject to change.
the properties of the tape SEPARATOR
the
the
10mm T-40 or T-20-profile band (electromagnets)
the
8 to 40 mm L-profile M8 concise polyster tape
the
horizontal type helical geared reducer KD
the
National Degistirile knows drum
the
Horizontal (Side Angle)appropriate work featured Twin 22000 series bearings
the
Universal drum system in his own production of the National hard DETESS
the
Dynamic tensile balanced steel drum.